The Bookworm's Corner is weekly updates on anything bookish! What I've read through the week, any books I've bought this week that I'm super duper excited about, recommendations lists, book news - whatever! This is where the Bookworm wades in.


What I've Finished
Antigoddess by Kendare Blake
The Goddess War: #1
YA, fantasy
3/5 stars
The ancient gods are dying and Athena and Hermes are determined to find out why. The answer may lie with Cassandra, a teenage girl in Kincade, New York, who is the reincarnation of Cassandra of Troy: the girl cursed to see the future, but have no one believe her. The only problem is: Cassandra doesn't remember who she is - and Apollo isn't about to let her be used by the gods
. So I read this for my book club, and so many members hated it that I couldn't wait to get my hands on it. When I finally started reading it, I knew that I disagreed with them.
Antigoddess
could be so much more and it does have nigglies and holes, but I liked it for what it was. I liked the plot and the Author's portrayal of the gods was very interesting and unique. We aren't seeing the gods in their full glory; for once, we're seeing them after they've been forgotten, after they have become less than gods, and when they are dying. At times the plot felt like it was running in place: stuff happened but it didn't really go anywhere. And I have questions. But this
is
the first book in a trilogy, and I'm willing to see where it goes next.
The Only Thing to Fear by Caroline Tung Richmond
YA, alternate history
5/5 stars
It is 80 years after the Nazis won WWII with their genetically engineered soldiers that turned the tide of the war. Zara lives in Nazi-controlled America, trying to go unnoticed by the Nazis. Because she has a secret: she has mysterious powers. And if they ever found out, she'd be executed. I love all things WWII, and the idea of the Nazis having won the war is very intriguing. So of course I had to read this book! It was incredible. Minus the genetically engineered soldiers - the Anomalies - the author presents a very believable and frightening image of what things might have been like. The characters are really good and the plot fast-paced and engaging. I loved it.
Dorothy Must Die by Danielle Paige
Dorothy Must Die #1
YA, fairy tale retelling
5/5 stars
Amy Gumm is the other girl from Kansas. And like Dorothy Gale, she's been swept away from her boring life and into the land of Oz by a tornado. But this isn't the Oz Amy has read about. Dorothy has returned - and she's evil. Now Amy must ally herself with the Wicked and kill Dorothy. I hate Oz with a passion, after reading all 15 originals about two years ago. But this Oz - oh my gosh, this Oz was incredible. Creepy as all hell, dark and twisted and disturbing - and so awesome. Dorothy is one of the best villains ever! And Amy is a spunky, sassy protagonist with the attitude. I loved it.
Snow Like Ashes by Sara Raasch
Snow Like Ashes #1
YA, fantasy
3/5 stars
Meira is one of eight surviving refugees from when their kingdom - Winter - was taken by Spring and their magic stolen. Now, they're on a quest to regain their magic and restore their prince to his throne. At first I wasn't hugely impressed with the whole idea of kingdoms being stuck in one eternal season. But as the world building was continued, I liked it more and more. The characters were great - Meira very capable and tough - and the villain impressively intimidating. I didn't care for the love triangle - though it certainly wasn't the worst I've read - and the pacing was at times way too fast.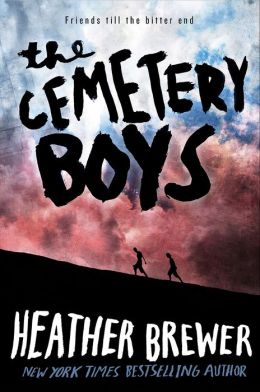 The Cemetery Boys by Heather Brewer
YA, thriller
4/5 stars
When Stephen is forced to move to boring small town Spencer, Michigan, he knows his life is going to go from sucky to downright awful. But then he meets a group of guys who hang out in the cemetery and he has hope that he's found friends. Until their little group starts to take a very dark and evil turn. . . .
The author told me this book was like an Alfred Hitchcock movie. And that was literally all I knew about it before I read it. I didn't look up reviews or read the synopsis beforehand. And oh my gosh, this book. I don't know what this book did to me, but it was awesome. It was creepy and captivating and disturbing and frustrating as all hell. And that ending. . . .I still haven't gotten over it.
Harry Potter and the Goblet of Fire by J. K. Rowling
Harry Potter: #4
Middle Grade: fantasy
3/5 stars
It's the beginning of Harry's fourth year at Hogwarts School of Witchcraft and Wizardry. Lately he's been having concerning dreams about Lord Voldemort, waking up with his scar hurting. But all worries are pushed aside when the Triwizard Tournament is held at Hogwarts. Harry is too young to enter - but then someone puts his name in the Goblet of Fire. And once the Goblet has chosen you, you must compete. I'm just enjoying this world more and more with each new installment. There's so much world building and attention to detail. Things could have moved at a much quicker pace, but I liked the character development and exploration so much that I didn't want it to. And then the book takes a darker turn at the end, promising further development in future books. Voldemort is probably one of the most pathetic villains I've read, but everything else sort of makes up for that.
What I'm Currently Reading