The Bookworm's Corner is weekly updates on anything bookish! What I've read through the week, any books I've bought this week that I'm super duper excited about, recommendations lists, book news - whatever! This is where the Bookworm wades in.
Bone Gap by Laura
Riby
YA, mythology retelling
4/5 stars
In the small Illinois town of Bone Gap, strange things are afoot. One day, a Polish girl named Roza entered the lives of brothers Sean and Finn - and then she was gone, like so many others in their lives. Everyone is convinced she just left. But Finn knows differently. Finn saw the strange gray man who moves like cornstalks in the wind. Finn saw him take Roza. And Finn will do everything he can to bring back the girl his brother loves. Even if no one believes him.
When I first started reading this book, I was confused as all hell. Magic realism is a genre that I'm still getting used to, and I'm not sure I ever will. So throughout the majority of
Bone Gap
, I scratched my head and declared it one of the weirdest books I had ever read. But I
was
curious to see how it would end. I wanted answers. More than halfway through, I suddenly understood that it was a loose retelling of the Hades/Persephone legend. And suddenly
everything
made sense. This book isn't being marketed as a retelling, and maybe it's an accidental retelling, but thinking of it as one clears up all the nigglies and puts some sense into the weirdness. And this realization pushed the rating up to a 4-star rating, where it might have been as low as 2 stars. The characters are all very fascination and interesting, and as I got to know Roza, I became emotional invested in her and Sean. I never was invested in Finn and Priscilla "Petey", though I loved Petey's no-nonsense and Finn was just an oddball. If you're looking for a weird, engaging, surprising read, look no further.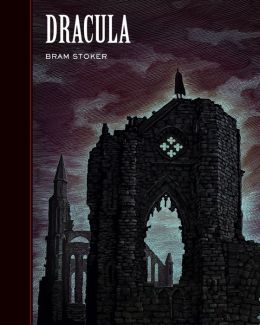 Dracula by Bram Stoker
classic
4/5 stars
Something is amiss in London. A creature stalks the dark streets, tormenting young, gentle Lucy, leaving strange bleeding marks on her throat. His presence sends the inmates of a local sanitarium into a frenzy. The only way to hunt this creature down before he destroys anyone else may lie with strange Professor Van Helsing, who studies lore and legend and the accult. But even he may be no match for the creature. I really, really wish there was a way I could have read this book having no clue what was going on. What was it like picking this book up the first time it was published, before it was a classic and had been destroyed with numerous bad movie adaptations? Dracula is spooky and deliciously Gothic. The narration style - through journal entries and letters - is extremely effective, and the insane asylum an absolutely perfect touch. I dearly wish someone would make a movie that is actually close to the book, because it's chilling and creepy and awesome.
Heir of Fire by Sarah J. Maas
Throne of Glass: #3
YA, fantasy
3/5 stars
Celaena Sardothian, the King's assassin, has been dispatched to a neighboring kingdom to assassinate its royal family. But Celaena has other plans. She's looking for answers - about herself, her inherited power, and how to destroy the ruthless, cruel king of Adarlan. But a monstrous army is amassing and Celaena is running out of time. I knew that this series would eventually impress me. The world building was too good from the beginning not to; I just can't stand Celaena. However, we follow several characters in this third installment, so we actually spend very little time with Celaena. And with Celaena being separated from her love interest, Chaol, I was able to appreciate everyone. The world building continues to impress me, and the plot is getting thicker and more complicated and more engaging. I even found myself liking Celaena just a tiny bit in the end. Once she faces her inner demons and stops being pathetic and broken down, she is pretty awesome. I only hope her awesomeness continues. And as always, the ending pulled a twist that was totally epic. I can't wait to see what happens next; I'm officially hooked to this series. It lived up to expectations in the end.
What I'm Currently Reading